Two Guinness World Records-the World's Largest Water Floating Park Was Completed in Luodian, Guizhou
Time:2019-11-01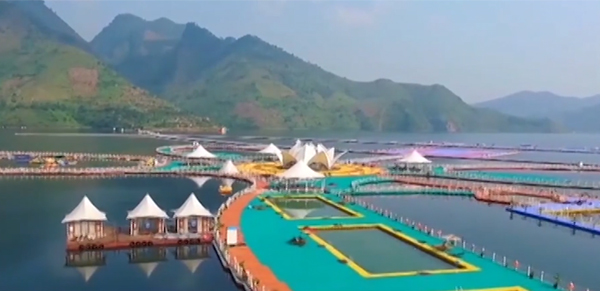 The Hongshui River in Luodian, Qiannan, Guizhou, originated from Maxiong Mountain in Zhanyi County, Yunnan Province. It is named after flowing through the red sand shell rock layer and the water color is reddish brown, as a golden waterway for the survival and development of the people of the the Bouyei and Zhuang nationalities in the two provinces of Guizhou and Guangxi. In addition to the natural scenery and humanities and ethnic customs, the floating walkway in Hongshui River Leisure Resort in Luodian, the world 's longest and longest in the world, has attracted much attention.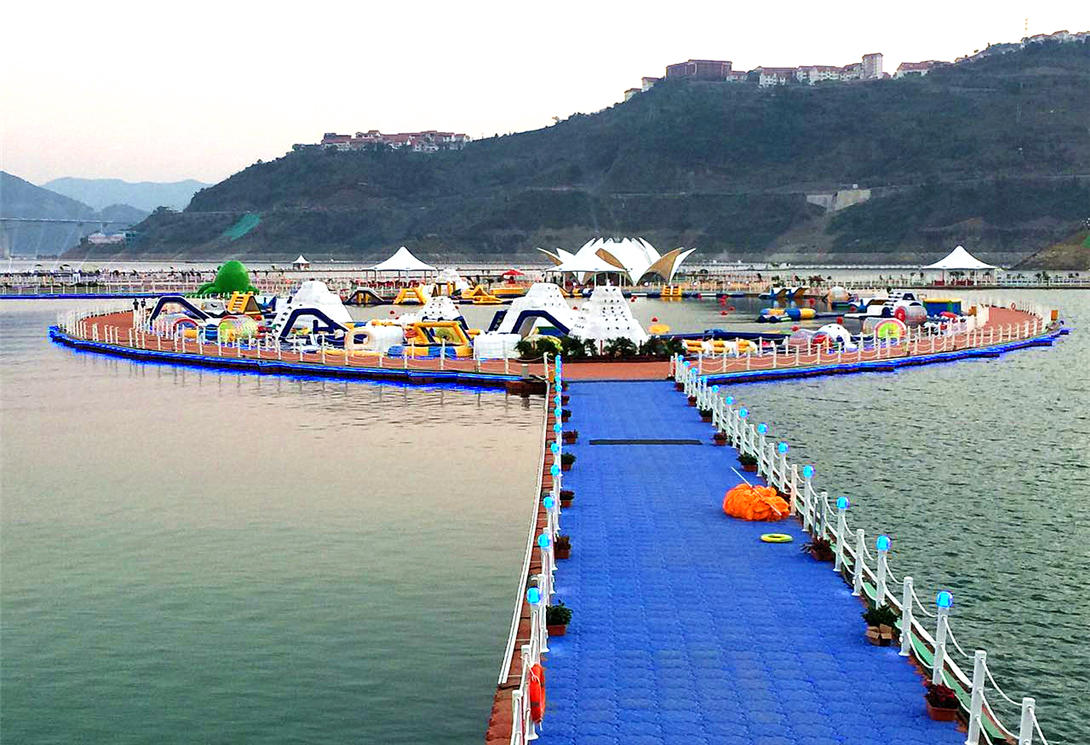 Overlooking the entire floating paradise, it looks like a colorful butterfly dancing on the rippling Hongshui river, which is magnificent. This project is a water floating main venue specially created for the Tenth Session of Tourism Development Conference held by Qiannan, Guizhou Province . It is a true integrated project of water entertainment and can accommodate 30,000 people to play, swim, and night tour at the same time. From 2:00 pm to 23:30 pm on December 29, 2016, more than 8,000 leaders, experts, scholars, and industry insiders met on the floating stage, watch various water sports and aerial performances during the day, and hold a tourism industry development promotion conference at night The whole floating stage integrates sound, light, electricity, water stage performances and other exciting programs into one, which is unique and unique and the world's first.
Once the project was launched, it quickly became famous and caused a sensation in the industry. Many tourists come here, and government leaders, scenic spot leaders, experts and industry insiders from all over the country to investigate and study, and therefore won the Best Project Creative Award and Best Project Challenge Award from the Luodian County Party Committee and County Government. The project was identified as a national ecological sports park by the General Administration of Sport of China.
This floating walkway was built by Qihua on a 5000-mu reservoir in Hongshuihe Scenic Area, Luodian County, Qiannan, Guizhou, with a water depth of 180 meters and a maximum water level difference of 180 meters in just three and a half months. The total length of the water floating walkway is 5130 meters, the water floating amusement park is 60,000 square meters (consisting of more than 239,600 floating bodies), and the floating light and music show by 22,000 lights, won two Guinness world records- -The longest pontoon in the world is 5130 meters long and the largest aquatic floating landscape amusement park in the world is 60,000 square meters.
The Luodian Water Floating Walkway and the large water floating paradise are just a microcosm of Shanghai Qihua's water floating project. Up to now, Shanghai Qihua has successfully constructed more than 400 water floating engineering projects in the world and exported them to Russia, Southeast Asia, India, Middle East, Europe and other regions, well-known in the international market.